Holiday parks have offered memorable New Zealand holidays for generations. Located in some of its most beautiful places, they offer a range of great-value accommodation options for all types of visitors, all year round – from couples and families, to backpackers, bikepackers and hikers, to high-end road-trippers looking for a comfortable place to stay.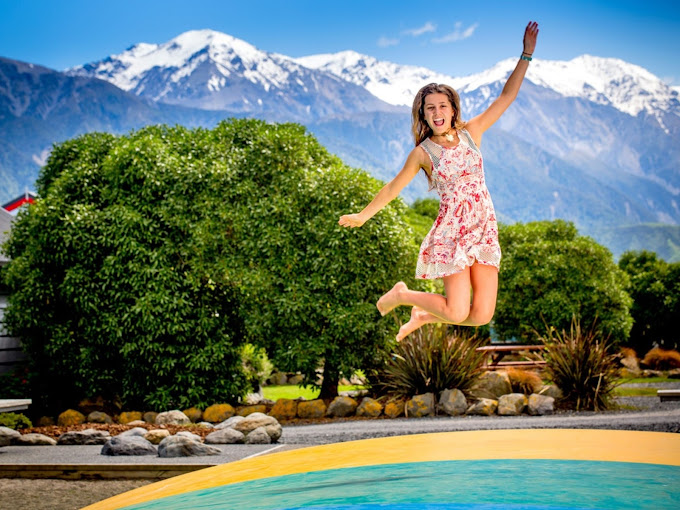 Here are 11 great reasons to stay in a New Zealand holiday park
A classic Kiwi experience
Whether you're local or from overseas, New Zealand's holiday parks offer an authentic Kiwi experience. With their relaxed atmosphere, friendly feel and nature on tap, they're a wonderful way to connect with Aotearoa's people, places and culture.
Honest value
Whether you're looking for budget accommodation or something more upmarket, our holiday parks have got you covered. Options range from campervan sites, glamping and tent sites, to a range of built accommodation from cabins, dorm rooms, motels and luxury apartments.
Great facilities, friendly service
Enjoy the convenience of communal kitchens, BBQ areas, laundries and wifi, and fun bonuses such as playgrounds, games rooms, hot pools and swimming pools. Helpful staff offer local travel tips, and sometimes activity bookings too.
Be in the great outdoors
Not only are holiday parks set in peaceful, spacious surrounds close to beaches, rivers, forests and other natural places, many also have outdoor adventures right on the doorstep. Enjoy swimming, kayaking, walking and cycling, or go on adventure tours such as wildlife cruises, ziplining and whitewater rafting.
Family & group-friendly
With accommodation ranging from camp sites to fully self-contained apartments, holiday parks are an excellent option for gatherings where everyone can feel comfortable. Some holiday parks even have conference rooms and lounges where you can hold your special meet-up.
All-seasons accommodation
Have a comfortable stay at any time of year in motels and other accommodation, as well as cosy lounges and other communal spaces for campers and caravan travellers. Many parks also offer special deals outside of peak season.
Cycling made easy
Holiday parks and cycling go hand in hand, with plenty of parks close to New Zealand's 23 Great Rides and other amazing cycle trails. Our Cycle Hubs programme means you can choose a park that's guaranteed to be bike-friendly, offering local ride and bike hire advice, secure storage, clean-down area and much more.
Light environmental footprint
By travelling slowly, staying longer and sharing communal facilities, you can enjoy a holiday that minimises your impact on the planet. You'll discover that many holiday parks not only work hard to limit their impact, they also contribute to environmental enhancement through projects like native revegetation and wildlife protection.
Flexible travel planning
With lots of accommodation options and generous capacity, holiday parks offer better flexibility than other accommodation providers. This means that outside of the hotspots at peak season, holiday parks often have late-notice and last-minute options so you can keep your travel plans more fluid.
Consistent quality wherever you want to go
With more than 260 member parks across the country, you'll find one close to the destinations you want to visit – from national parks, beaches and forests, to alpine resorts, towns and cities.
Stay local, support local
With the majority of holiday parks locally owned and operated, you can be sure that more of your holiday spend benefits the communities and places you visit.