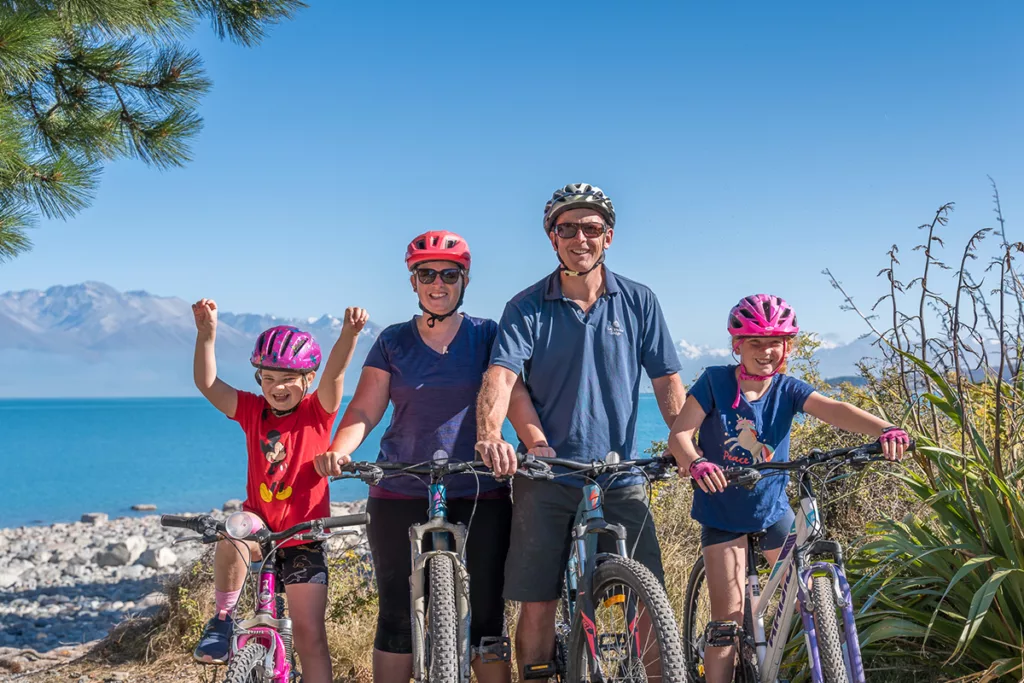 A growing network of Great Rides, bike parks and other trails close to cycle-friendly holiday parks mean it's never been easier to put some pedalling into your leisure time!
When it comes to active, fun time together, it's hard to beat the combo of biking and holiday park stays. Offering accommodation for all seasons, most New Zealand's holiday parks have cycle trails nearby and offer heaps of practice space in their green, leafy grounds.
Many of our holiday parks are Cycle Hubs, which offer a range of bike-friendly extras including advice on local rides, clean-down areas, secure storage and e-bike charging, as well as contacts for local mechanics, shuttles and tour operators. Some even have on-site bike hire if you haven't bought your own. To help you get going, here are 23 top cycling combos matching New Zealand's 23 Great Rides to bike-friendly holiday parks nearby, from north to south.
---
Pou Herenga Tai Twin Coast Cycle Trail – Northland
Set amongst 14 acres of native bush brimming with birds, Russell-Orongo Bay Holiday Park is a peaceful base for day rides on Pou Herenga Tai Twin Coast Cycle Trail stretching cross-country from the glittering Bay of Islands to magical Hokianga Harbour. More advanced riders should also check out the fabulous Waitangi MTB Park nearby.
---
Hauraki Rail Trail – Waikato/Coromandel
Sand, surf and a 25m heated swimming pool await you at Tasman Holiday Parks, Waihi Beach, close to the eastern end of the Hauraki Rail Trail. One of the easiest Great Rides, this journey takes you around the coast and through countryside offering close encounters with rare birds, rural life, a historic gorge full of gold-mining relics, and the chance to visit Hobbiton.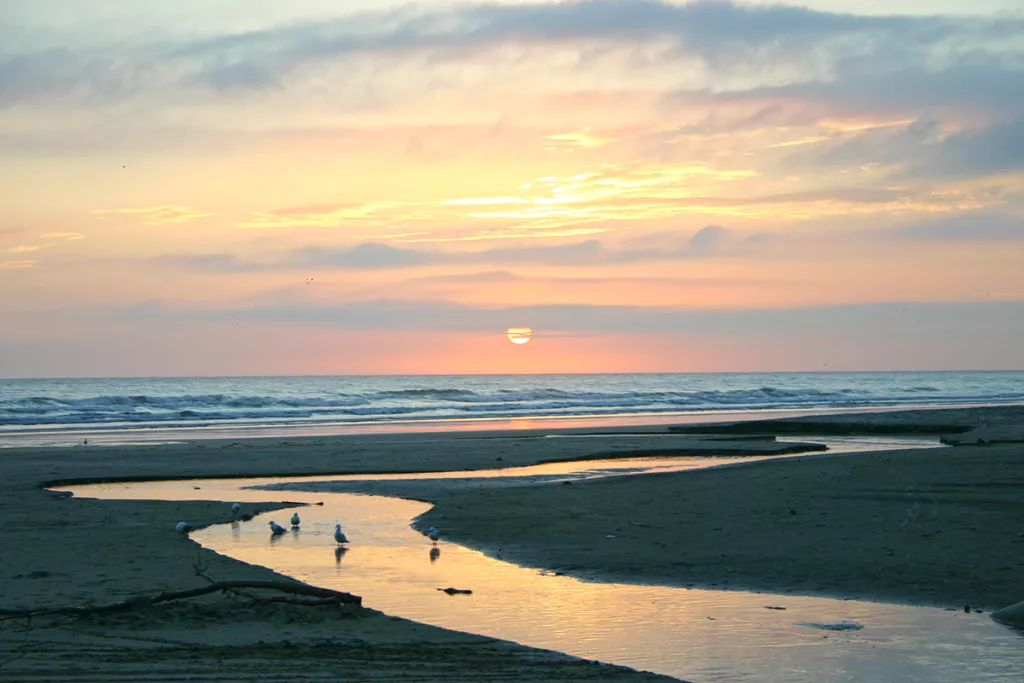 ---
Motu Trails – Eastern Bay of Plenty
Nestled harbourside along the sparkling Pacific Ocean, Tasman Holiday Parks, Ohiwa Beach offers a blend of beach and bush along with easy access to the marvellous Motu Trails, including the family friendly Dunes Trail. Bikes can be swapped for boats with on-site kayak and paddleboard hire.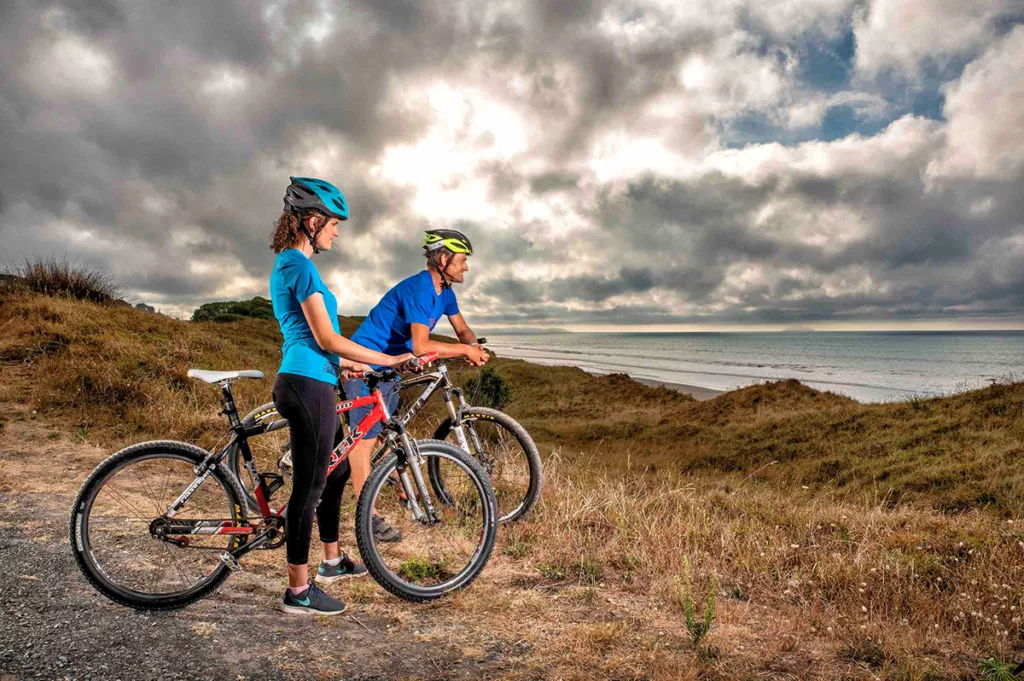 ---
Te Awa River Ride/Waikato River Trails – Waikato
Pick your perfect day out along Te Awa River Ride – 65km of super-easy concrete path along the Waikato River between Ngaruawahia, Hamilton, Cambridge and Lake Karapiro. Cambridge TOP 10 Holiday Park is just five minutes away and convenient for outings to Hobbiton, Waitomo Caves, or the Waikato River Trails – a Great Ride best suited to intermediate and advanced riders.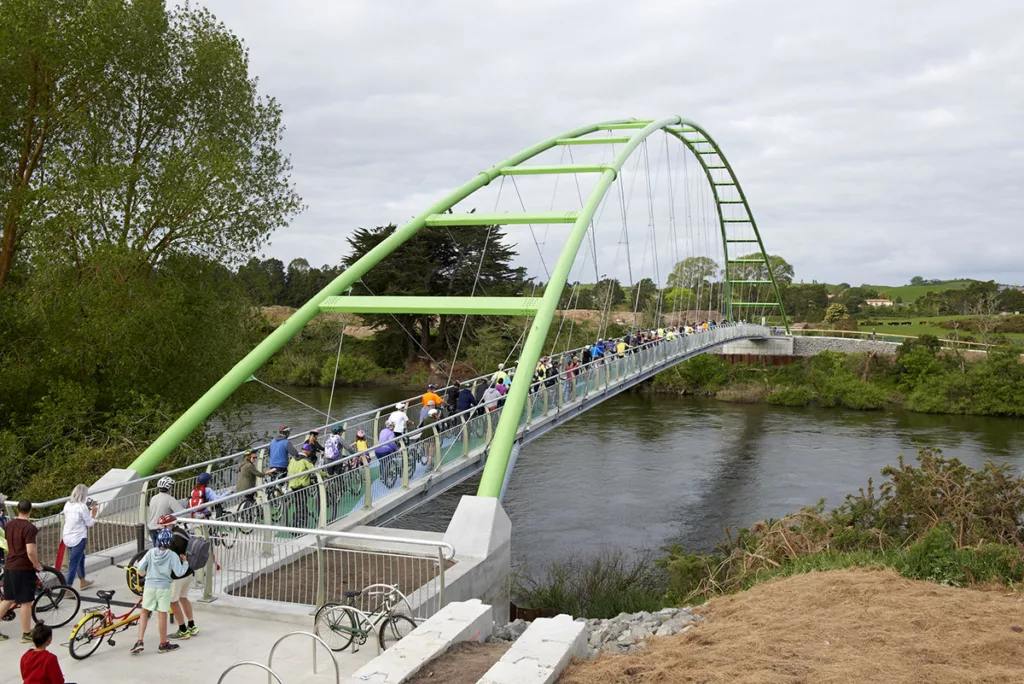 ---
Whakarewarewa Forest – Rotorua
New Zealand's newest Great Ride can be found in Whakarewarewa Forest, Rotorua's mountain-biking mecca boasting more than 200km of trails. Whakarewarewa Forest Loop is a 33km circuit suitable for riders with some off-road MTB experience. There are cafes, sculptures and even hot tubs en route! Right next to the loop on the shores of Tikitapu is the ever-popular and family-friendly Blue Lake TOP 10.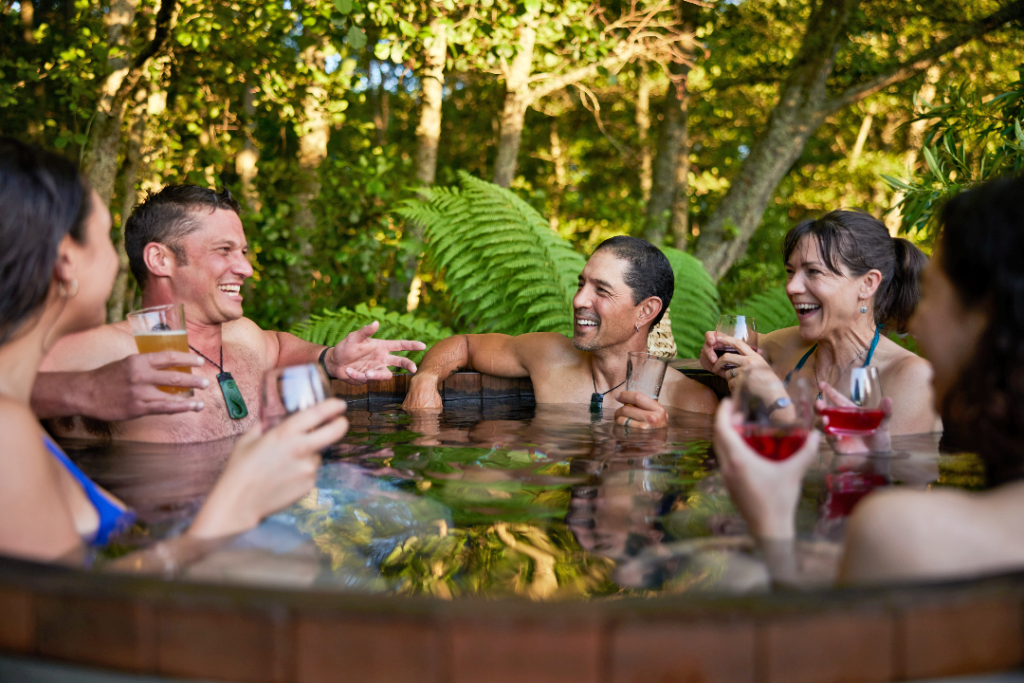 ---
Great Lake Trails – Taupō
Another town with some serious off-road bike creds is Taupō. Among its amazing, free-draining volcanic terrain is Craters MTB Park as well as a Great Ride with three bushy, lakeside sections. Lake Taupō Holiday Resort is a great base for exploration and offers oodles of family fun including holiday programmes and an epic lagoon-style pool with a swim-up bar, and brand-new hydroslides.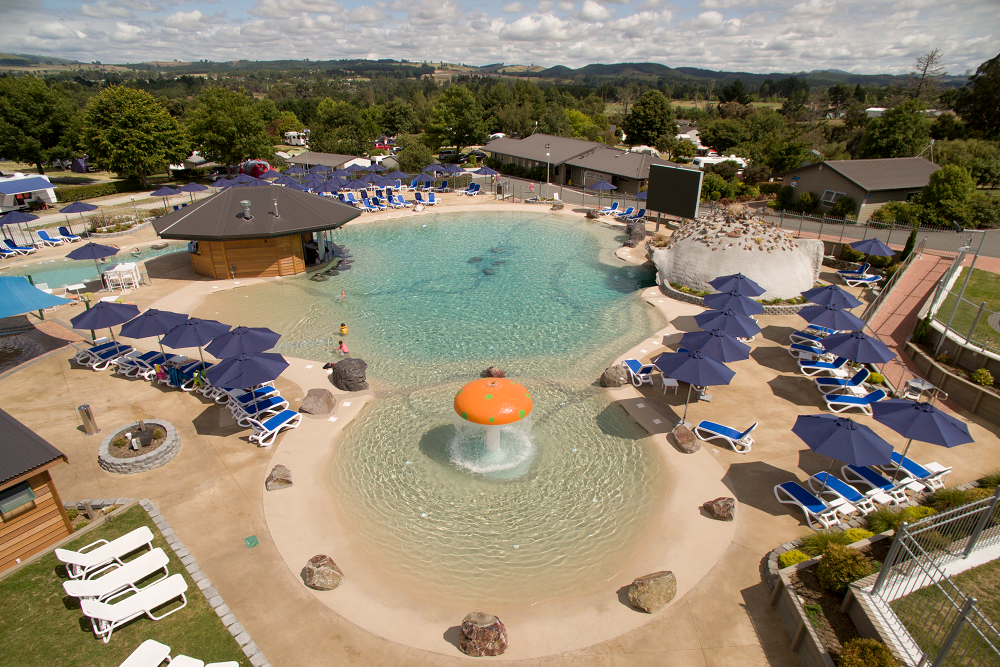 ---
Timber Trail – King Country
Following old tramlines, logging roads and modern singletrack, the two-day Timber Trail is a deep-forest mountain-biking experience complete with wonderful birdlife and several epic suspension bridges. Around the halfway mark are two lodges, glamping and a DOC campsite, but an excellent launchpad for rides around the King Country and Ruapehu is Raetihi Holiday Park. Here you'll find onsite shuttle and tour services for adventures such as the Mountains to Sea Ngā Ara Tūhono Cycle Trail, Whanganui Journey/Bridge to Nowhere and Tongariro Crossing.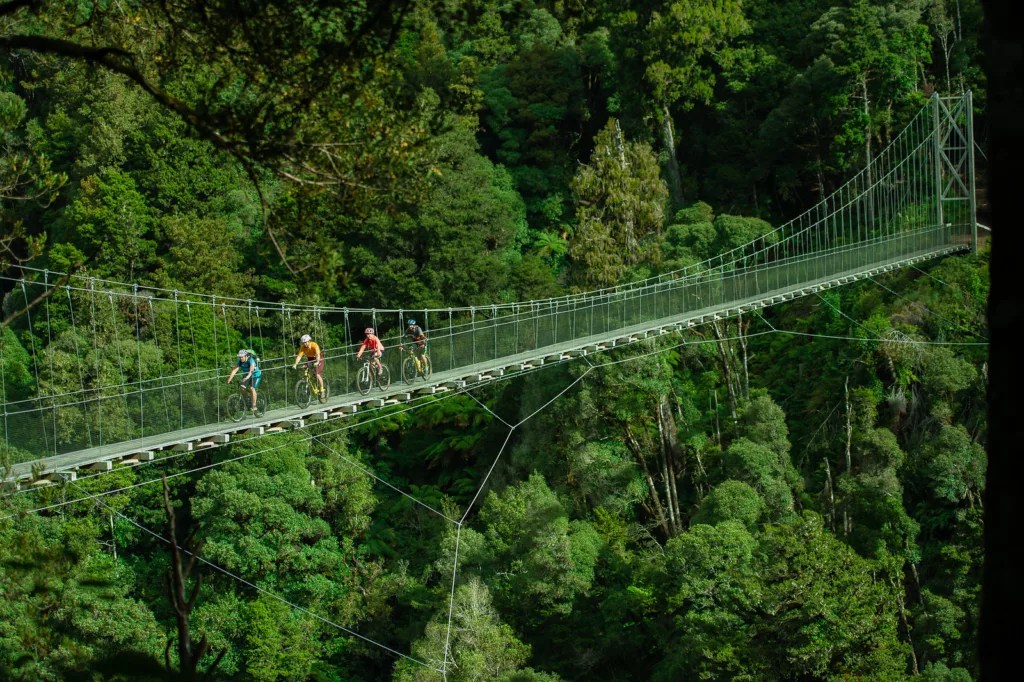 ---
Mountains to Sea Ngā Ara Tūhono – Ruapehu/Whanganui
The Mountains to Sea is an epic 200km-plus trail offering plenty of short rides including the must-do Ohakune Old Coach Road, and the up-and-coming Marton Sash & Door trail following a rediscovered bush tramway. With its alpine resort vibe and epic Mt Ruapehu views, Ohakune is the perfect biking base offering ample visitor facilities along with Ohakune TOP 10 Holiday Park.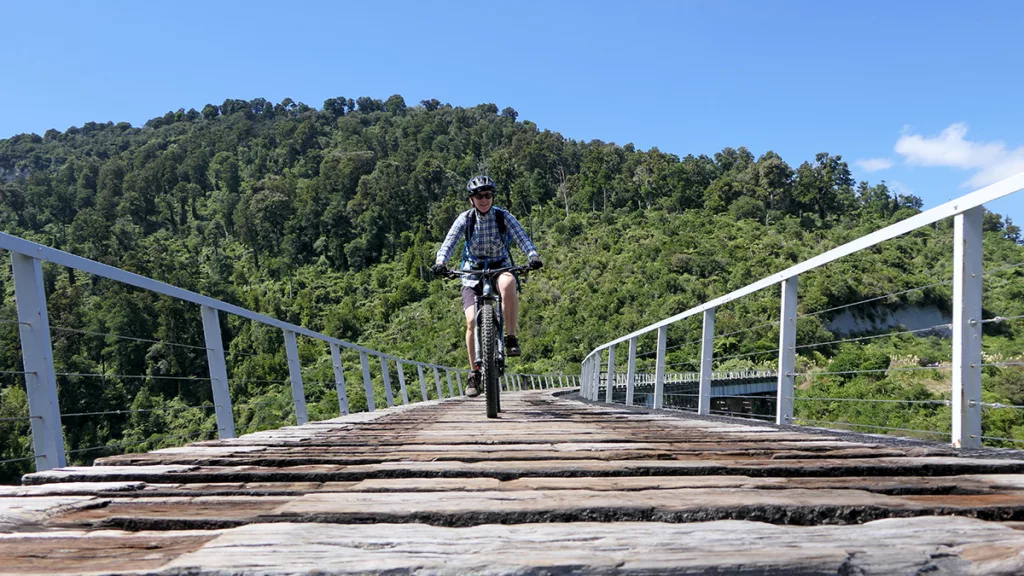 ---
Hawke's Bay Trails – Hawke's Bay
Fantastic attractions, great food and wine, gorgeous weather and mostly flat terrain make the Hawke's Bay Trails brilliant for biking all year round. In the heart of the action and set in rural surrounds with grand views of Te Mata Peak, handsome Havelock North Holiday Park offers a variety of cute self-contained cottages (leafy van/tent sites coming soon!)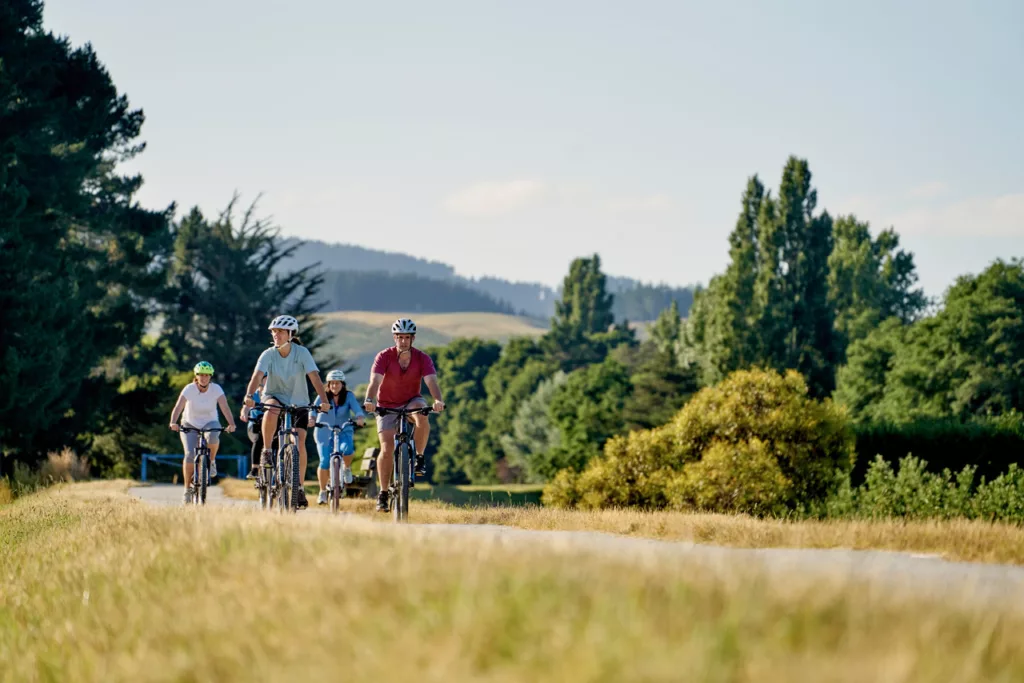 ---
Remutaka Cycle Trail – Wellington/Wairarapa
A delicious detour from the Remutaka Cycle Trail, Martinborough makes the perfect pit-stop for this Great Ride – especially if you love some wine time. Set amongst the vineyards just a two-minute ride to the town square, Martinborough TOP 10 Holiday Park is super cycle-friendly with the bonus of a classic community swimming pool next door.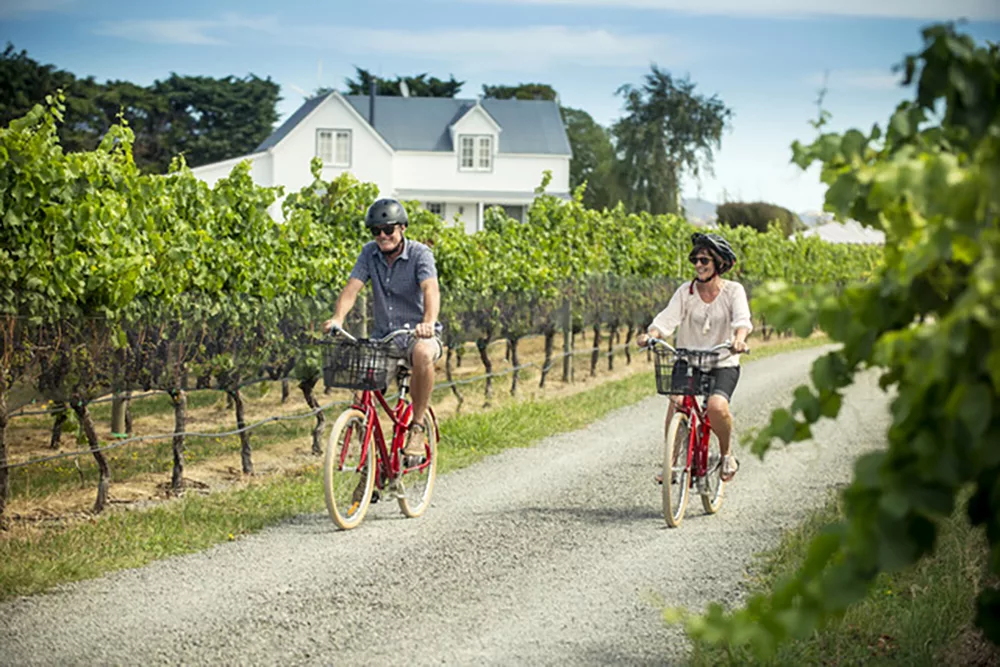 ---
Queen Charlotte Track – Marlborough
An easy 5km ride from the Anakiwa end of the Queen Charlotte Track is rural Smiths Farm Holiday Park with its own waterfall, bush walks and glowworm grotto. The helpful Faulls family can sort you out with all kinds of local adventures, including biking, boat trips, wine tasting and more, making it a great base for a Marlborough getaway.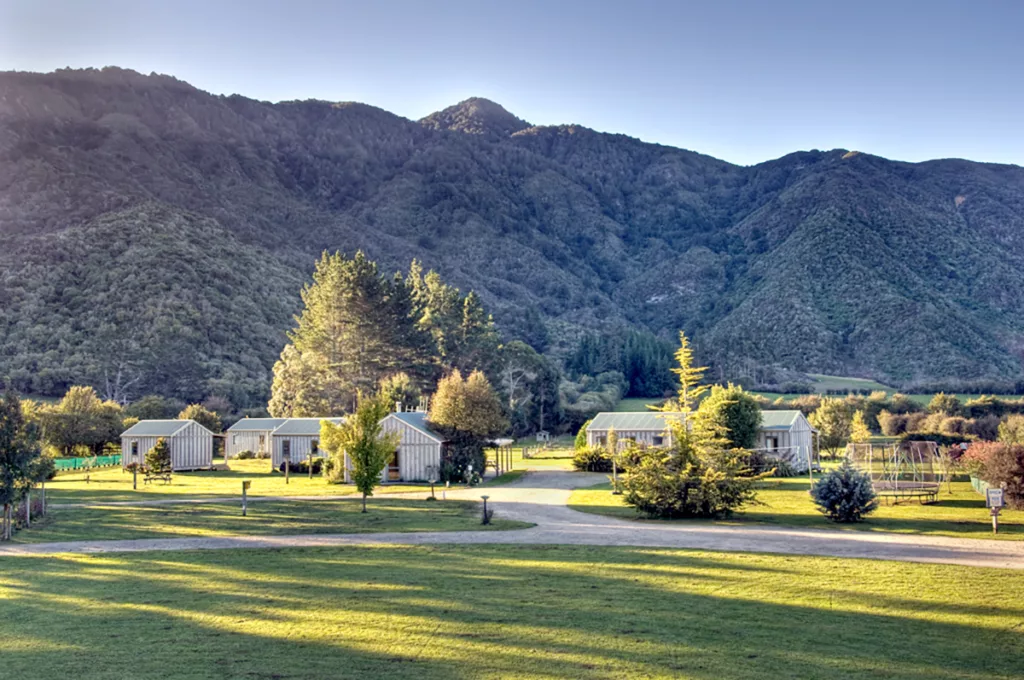 ---
Tasman's Great Taste Trail – Nelson/Tasman
Taman's Great Ride offers an amazing variety of scenery alongside a truly tantalising array of tasty attractions including art galleries, cafes, brewpubs, wineries – plus easy access to Abel Tasman National Park. With 200km of mostly easy trail, there are heaps of fantastic day rides, with Motueka TOP 10 Holiday Park a peaceful, leafy place to park up and ride.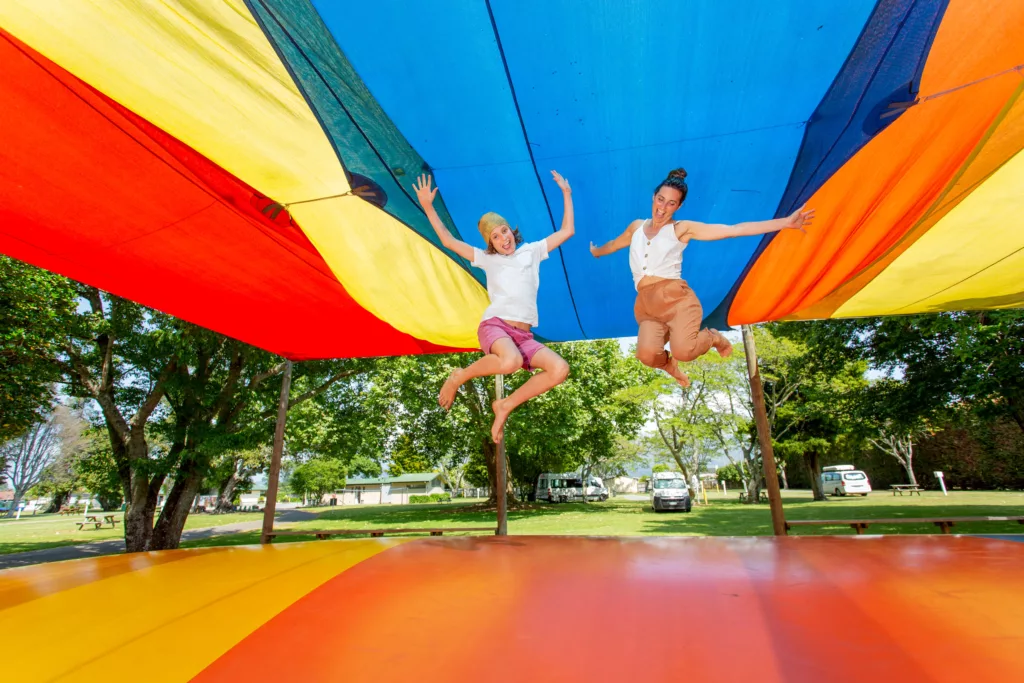 ---
Coppermine Trail – Nelson
Big, beautiful Tāhuna Beach Holiday Park is another good base for the Great Taste Trail or Nelson's second Great Ride, the Coppermine Trail – a memorable 43km ride best suited to experienced mountain bikers. Ride your heart out in the sub-alpine hills behind town, then head back down to Tāhuna Beach to relax.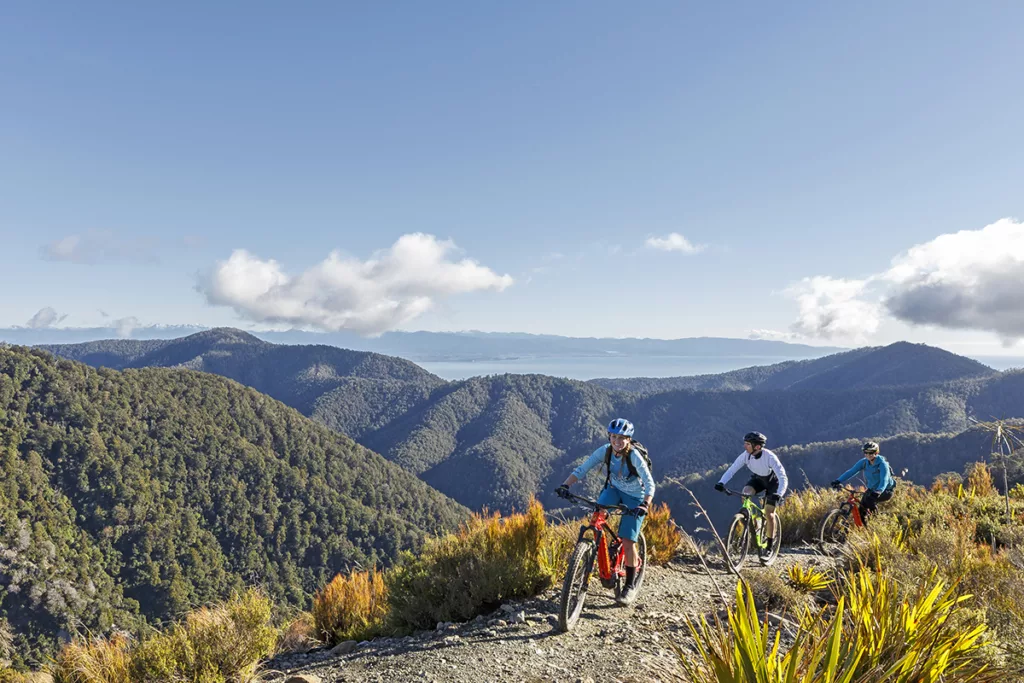 ---
The Old Ghost Road/Kawatiri Coastal Trail – West Coast
Snaking through bushy valleys and over spectacular mountains, the 85km Old Ghost Road is the country's ultimate wilderness ride and a chance to overnight in backcountry huts. Bookend your trip at Carters Beach TOP 10 Holiday Park right across from a rare, West Coast swimming beach and an easy bike ride into Westport via the wonderful new Kawatiri Coastal Trail.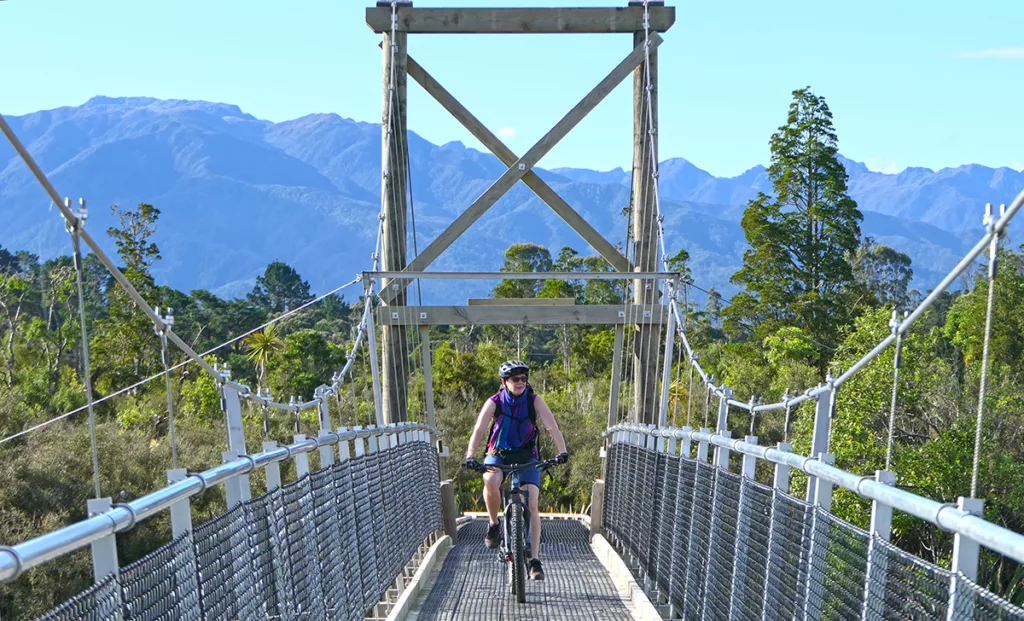 ---
St James Cycle Trail – North Canterbury
Adding even more action into this hot pool heaven is Hanmer Forest with rides for all ages, along with four epic backcountry rides nearby including the St James Cycle Trail Great Ride, and Molesworth Muster, Rainbow Trail and Hurunui Heartland Rides. Cycle Hub holiday park Hanmer Springs TOP 10 has been welcoming bikers for years with their local knowledge and excellent facilities.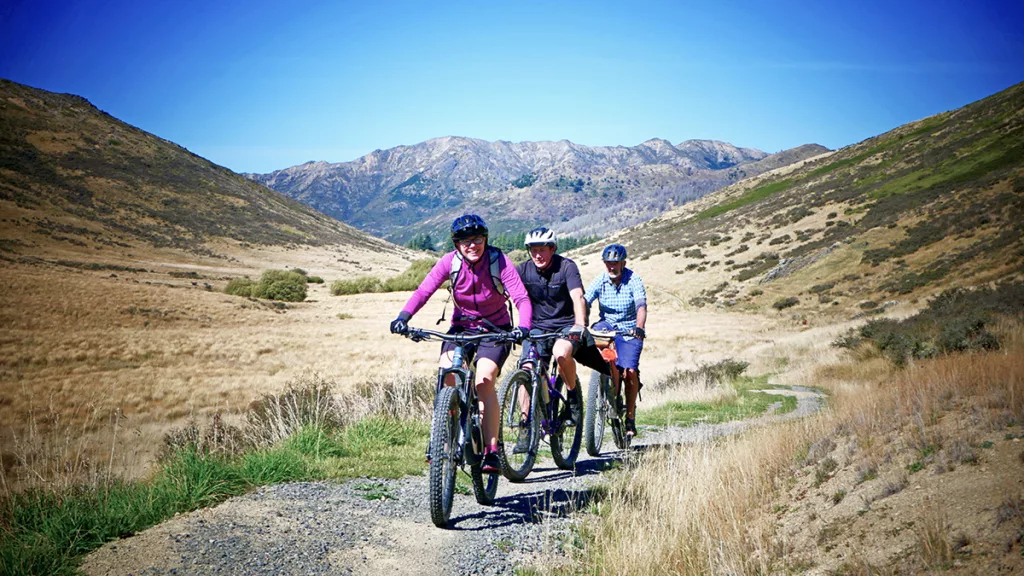 ---
West Coast Wilderness Trail – West Coast
Ross Beach TOP 10 Holiday Park at the southern end of West Coast Wilderness Trail is very well set up for cyclists with shuttles, bike hire, luggage transfers and vehicle relocation. Choose from cosy van and tent sites nestled beside the roaring sea, or very cool shipping-container cabins. Then relax in the beachfront chillout zone with pizza and a wine while the sun sets.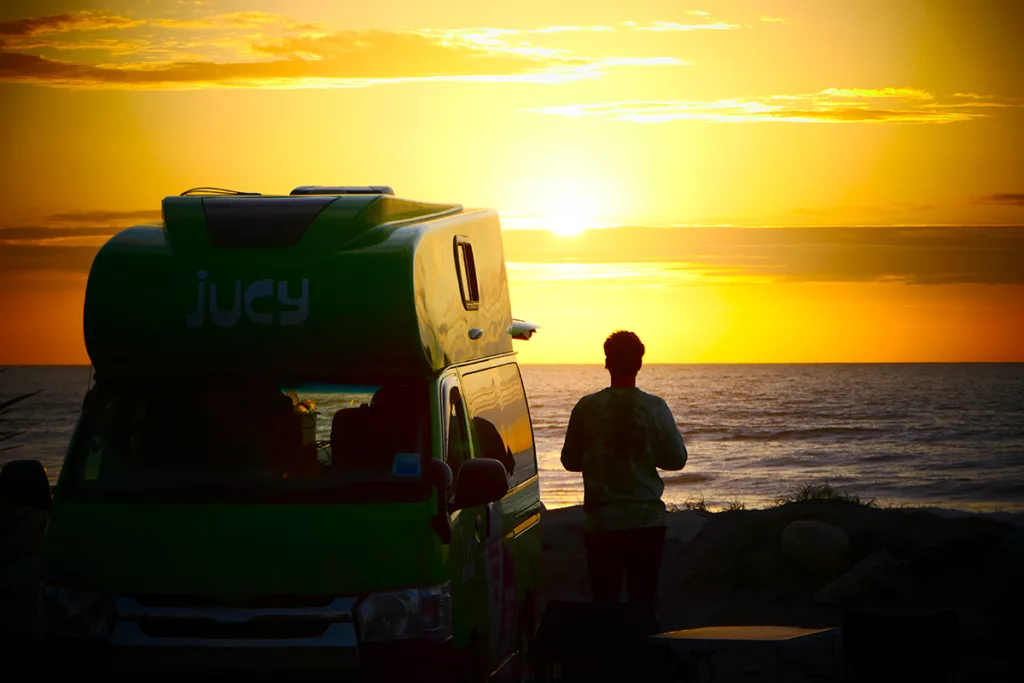 ---
Alps 2 Ocean Cycle Trail – Mackenzie Country/Waitaki
New Zealand's longest Great Ride, the Alps 2 Ocean Cycle Trail sports many commercial holiday parks and wilderness campgrounds between Aoraki Mt Cook and Oamaru. Ōmarama TOP 10 Holiday Park is superbly placed for a range of day-rides – check out the spectacular section to Lake Ohau or down to Sailor's Cutting – then unwind at the outdoor Ōmarama Hot Pools.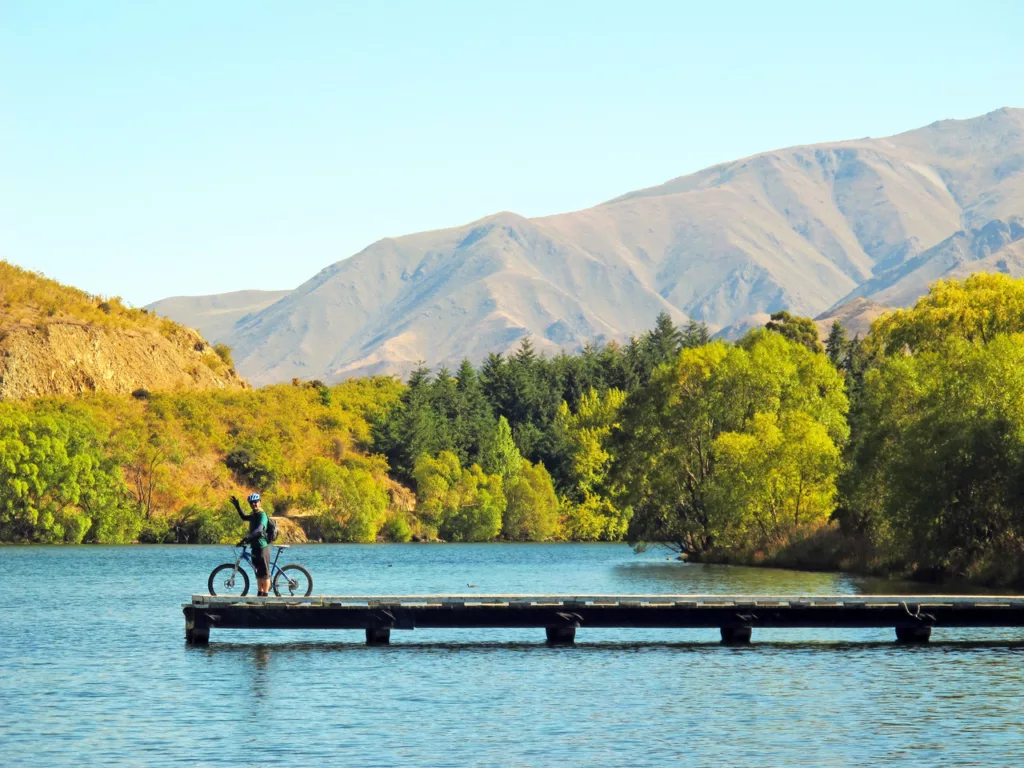 ---
Lake Dunstan Trail – Central Otago
Snaking between the heritage towns of Cromwell and Clyde, the bucket-list Lake Dunstan Trail boasts amazing rocky landscapes and world-class trail-building. Cycle Hub holiday park The Chalets Holiday Park in Cromwell will make your stay a memorable one and can help sort logistics including bike hire and transport back from Clyde.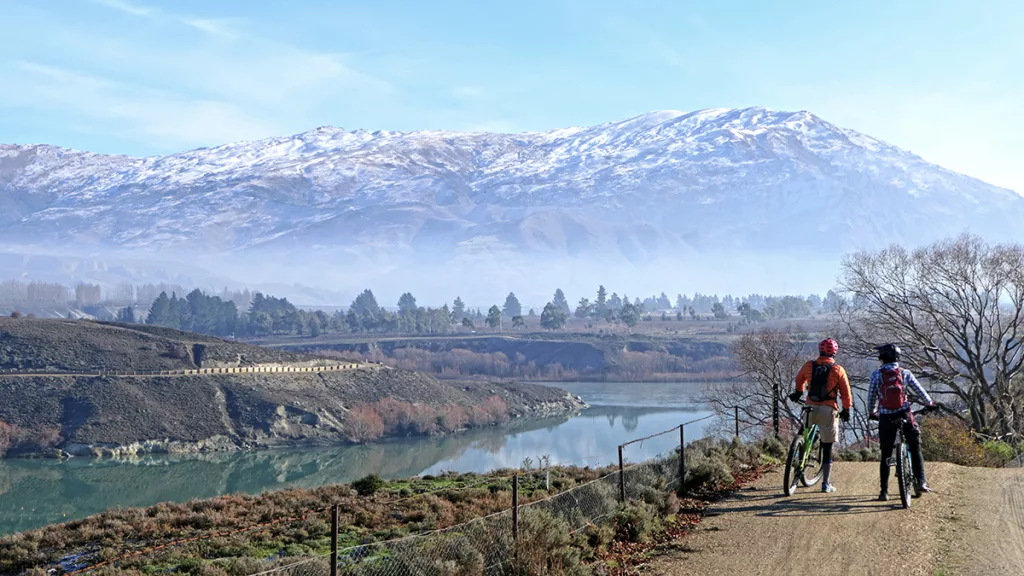 ---
Otago Central Rail Trail/Naseby – Central Otago
Calling itself '2000 feet above worry-level', Naseby brims with old-world character. It's within riding distance of the Otago Central Rail Trail, but also boasts its own 50km trail network in Naseby Forest. Make sure you stay long enough to go to the indoor curling rink and ride the new Gold Rush Luge, basing yourself at Naseby Holiday Park set amongst 17 acres of forest with space to roam and next door to the town's 'swimming dam' offering cooling dips.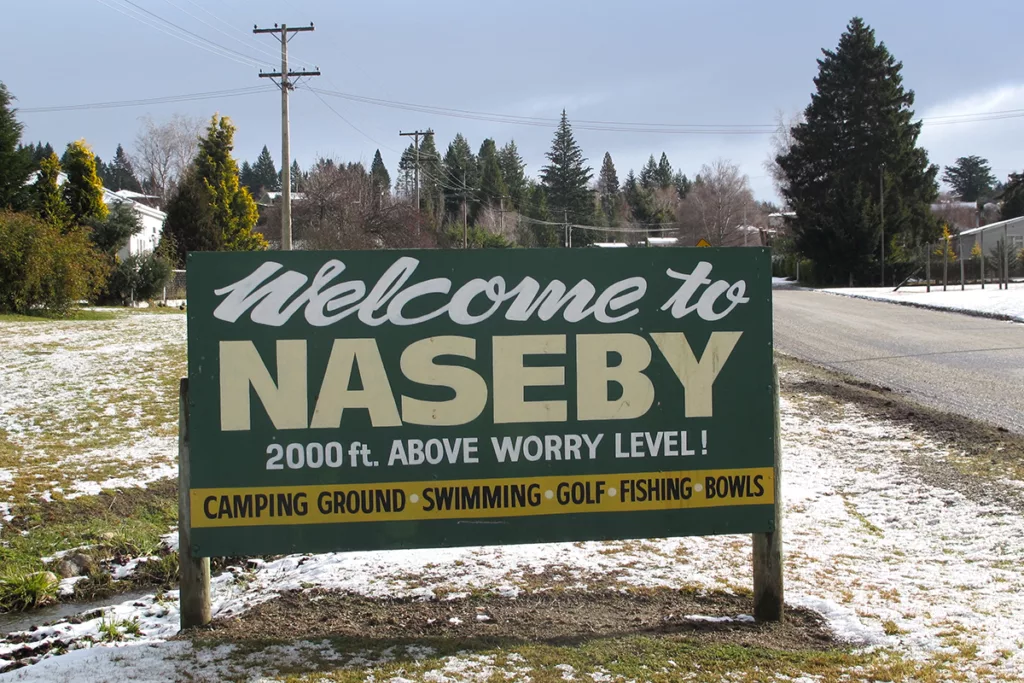 ---
Roxburgh Gorge Trail/Matangi Station MTB – Central Otago
Two Great Rides – Roxburgh Gorge and Otago Central Rail Trail – and the more techy Matangi Station MTB park have cemented Alexandra as a world-class off-road biking destination. Within walking distance of town, Alexandra Holiday Park provides ready access to these rides and more, and has ample sites and built accommodation set alongside the pretty Manuherikia River.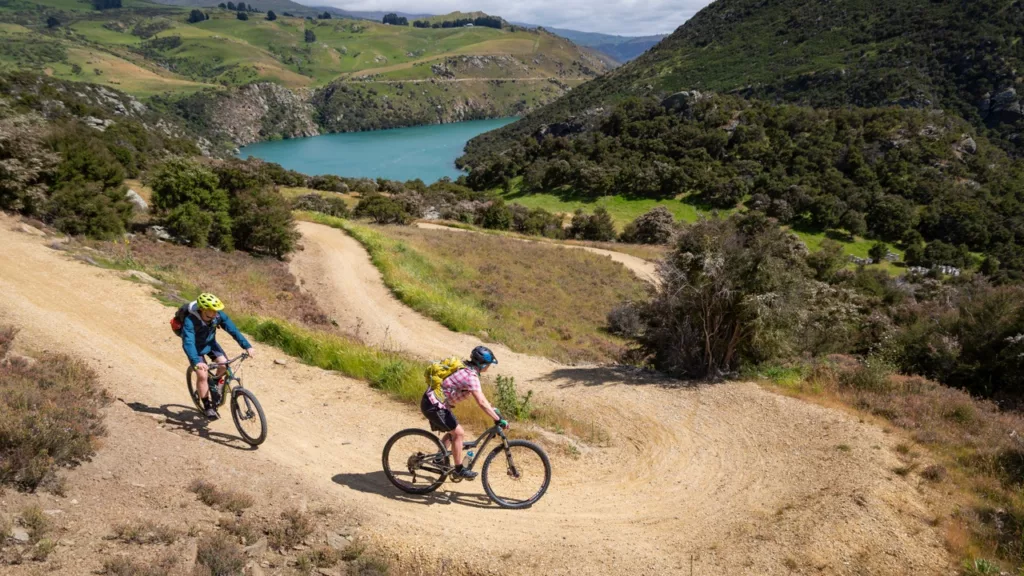 ---
Clutha Gold Trail – Central Otago/Clutha
The new 62km extension from Lawrence to Waihola has stretched the Clutha Gold Trail to a whopping 135km. An easy Great Ride taking in the Clutha Mata-au River's changing landscapes and colourful history, rolling farmland and wonderful wetland, it's a richly rewarding end-to-end journey. Alternatively, it can be enjoyed as day rides basing yourself at family friendly Roxburgh Clutha Gold TOP 10 with its beautiful wee cottages, tent/van sites, and a 4-bedroom option that's tops for groups.
---
Queenstown Trails – Otago
Adventure capital Queenstown has heaps of great trails – from laidback two-wheeled winery tours to double-diamond daredevil downhills. At the leisurely end is the Queenstown Trails which take in top sights including Arrowtown and Gibbston wine country. Right on the trail and offering lovely views across Lake Wakatipu, 6km from Queenstown, newcomer holiday park Driftaway Queenstown has fab facilities, swanky accommodation and lux hot tubs.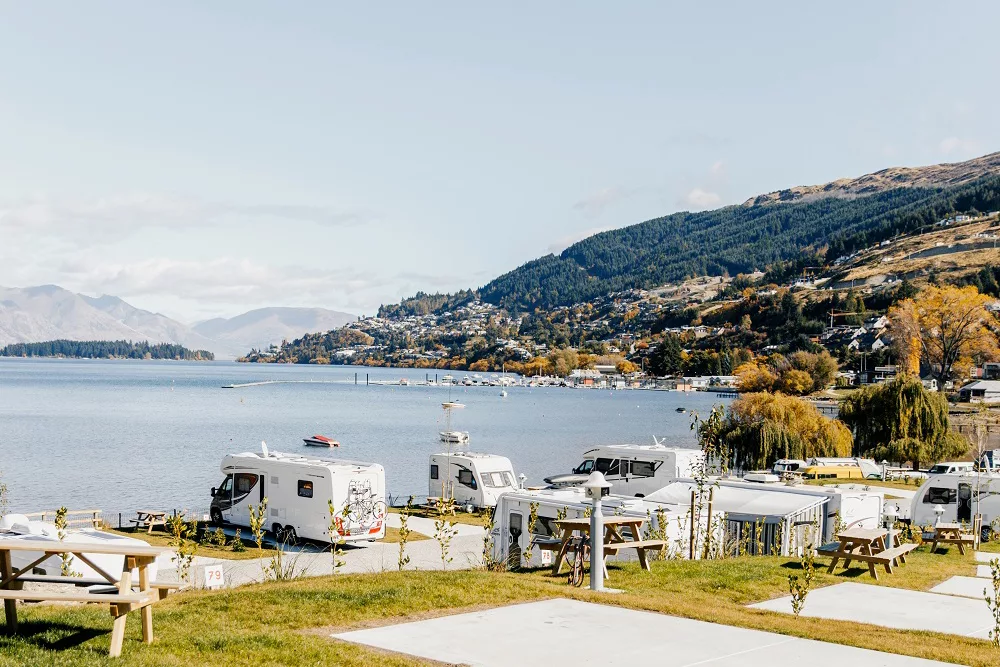 ---
Around the Mountains Cycle Trail – Southland
Last but not least is the Around the Mountains Cycle Trail, a Great Ride with truly grand lake and mountain scenery along with friendly hospitality in small Southland towns. At one end of the trail on the southern Lake Wakatipu shore, Kingston TOP 10 Holiday Park is well set up for bikers thanks to a variety of accommodation and Cycle Hub services including bike hire.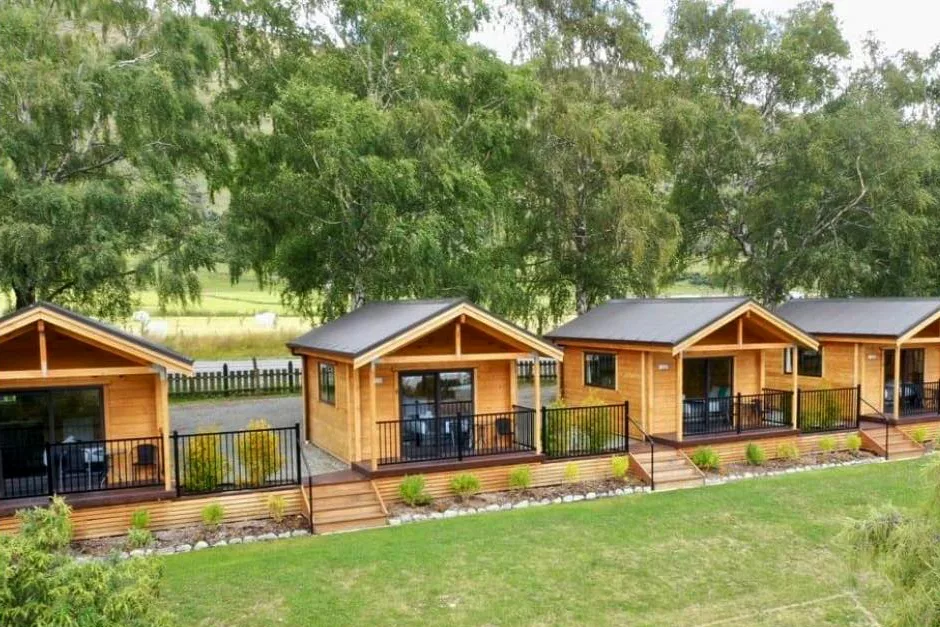 ---
Holiday parks and cycling go hand in hand
Holiday Parks New Zealand are proud to be a Ngā Haerenga Great Rides of New Zealand national partner. Parking and riding – the perfect combo.
You can find out more about the 23 Great Rides here, and these helpful blogs on riding safely and trail grades should help you choose the right cycling adventures for you.
---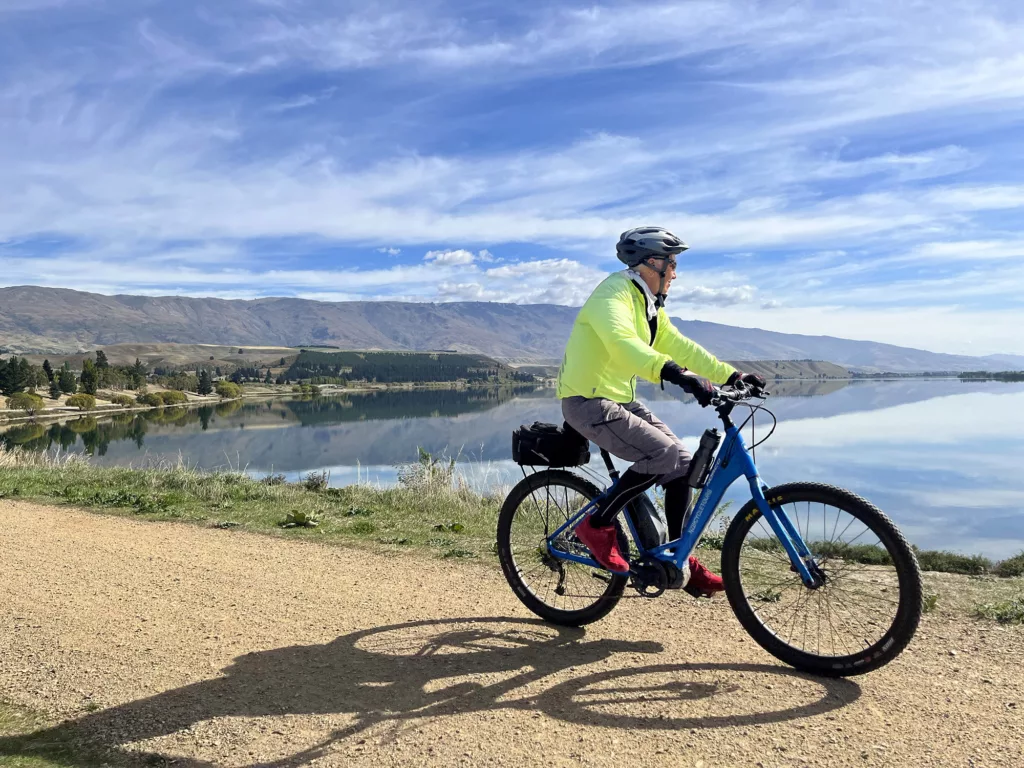 ---
Mount Maunganui's Cosy Corner Holiday Park wins supreme Sustainable Innovation Award
Being clean and green has been in Cosy Corner Holiday Park's DNA for decades. Read here to find out what they've been doing to reduce their environmental impacts.
What's new and exciting?
Read our 'what's new' blog for seasonal holiday inspiration around Aotearoa New Zealand.