Holiday parks are a great choice for travellers who want to reduce their impact on the planet. They encourage slow travel, longer stays and shared use of communal facilities, and by staying in holiday parks you'll also support the many positive things they are doing to lighten their environmental footprint.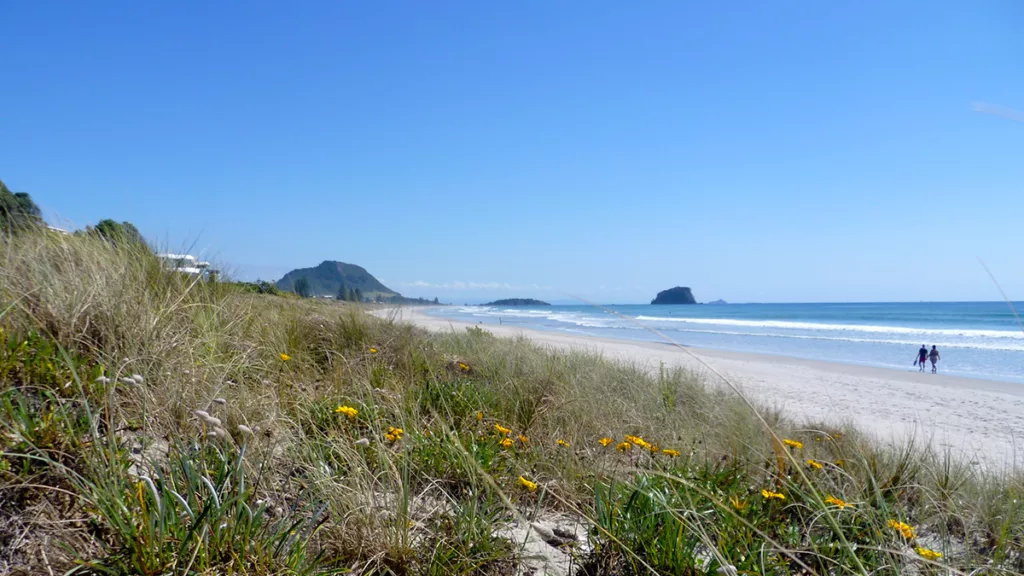 The Mount's beautiful beach beside the Cosy Corner Holiday Park
---

Situated just 80 metres from one of New Zealand's most popular and pristine beaches, Mount Maunganui's Cosy Corner Holiday Park has been a summer holiday haven for over 50 years, and has been doing its bit before sustainability was even a thing.
Back in the 1980s, park owner Ted Davidson made his own solar panels, which are still in use today. Forty years or so later, Cosy Corner's ongoing commitment to innovation and environmental care earned them the Holiday Park New Zealand's supreme Sustainable Innovation Award.
Being clean and green is in the park's DNA. Over the years, systems for saving water and power, and recycling have been added to the solar power set-up to make a real difference to the park's environmental footprint.
In 2018, however, the Davidson family decided to up the ante by signing up to the Tourism Sustainability Commitment – a nationwide initiative aimed at helping New Zealand's visitor industry reduce its impact on the planet.
Since then, Cosy Corner has installed 'naked' liner-less bins and a worm farm, and further reduced carbon emissions by replacing their diesel burner.
Collaborating with other organisations and community groups has also been positive. The local council's Resource Wise Business Programme, for example, has Cosy Corner on a four-year track to reducing the park's waste to landfill.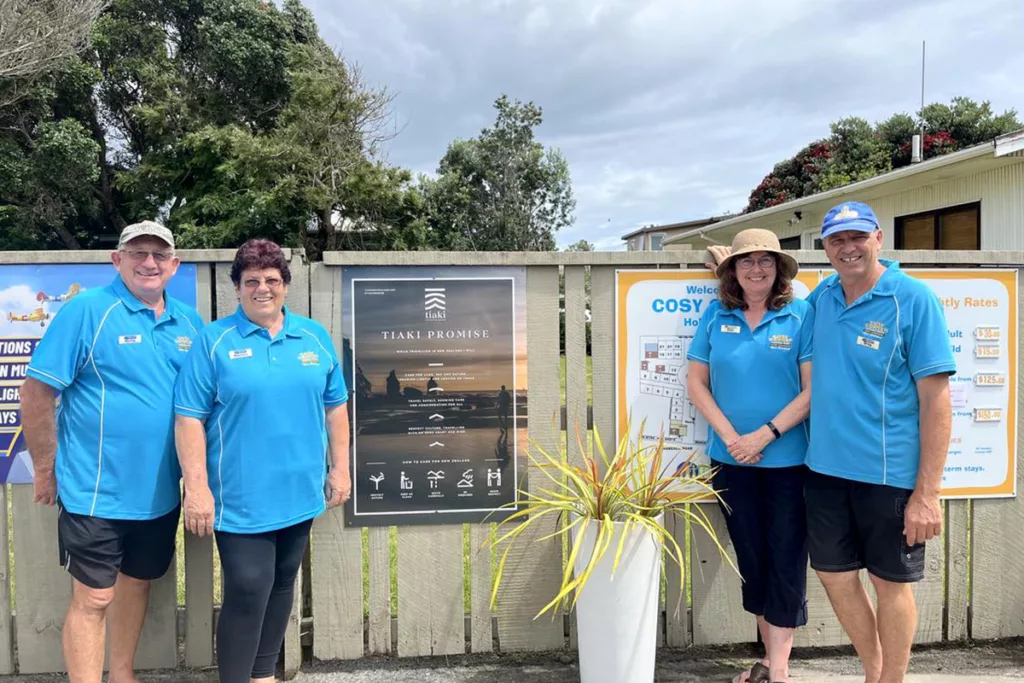 ---

Another Bay of Plenty initiative, The Green Room/Te Rūma Kākāriki, helps tourism businesses calculate their carbon emissions with the help of Ekos. Despite having already reduced their waste significantly, landfill turned out to be the biggest culprit for the holiday park – accounting for one-third of their carbon.
Armed with this hard data, it was time to increase their efforts, which over the summer of 2022–2023 delivered staggering results.
Simple changes made a huge difference. Through new signage and regular updates for guests, more food-waste bins, easier recycling systems, staff training, and better monitoring, the park increased their recycled waste to an average of 72% compared to around 40% in 2019. Between this emissions reduction and additional offsets, Cosy Corner earned Ekos's Carbon-Friendly Certificate and are on course to be carbon-zero by 2024.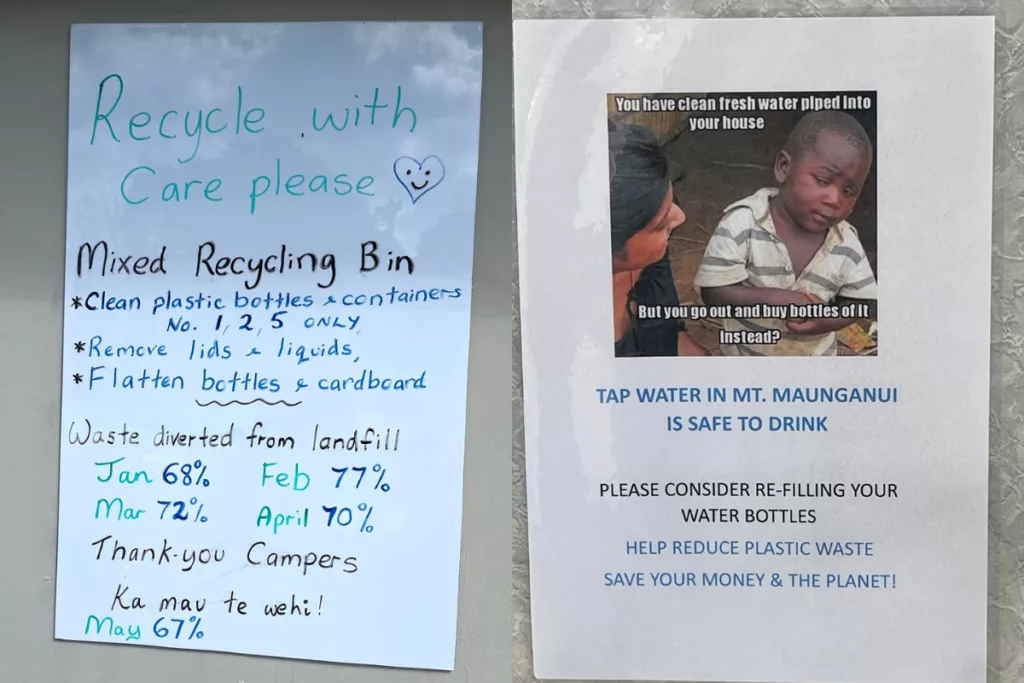 ---

Following in the footsteps of his parents, Ted and Mavis Davidson, Greg and his partner Vicki Woodcraft are proud that the changes they've made have created such a huge difference.
'We're only a small holiday park but we've proved that anyone who does their bit can collectively make a difference for future generations,' says Greg. 'Our staff and guests have shown great commitment to help us too, with some even changing their habits when they're back home.'
All of this impressed the judges of this year's Tourism Industry Association-sponsored Sustainable Innovation Award, who remarked on the way that clever, collaborative messaging was used to 'nudge' guests into doing the right thing, along with the park's wide-ranging approach to becoming more sustainable including the promotion of the Tiaki Promise. Cosy Corner's contributions to the community through charity quiz nights, a Hawke's Bay flood relief collection, volunteer work for a local wildlife trust and water-saving campaigns reinforce the park's feel-good factor.
Sharing their innovations also earned top marks. 'We're keen to share our experiences with other businesses to help them reduce their carbon emissions, which ultimately has the bonus of saving money on significant expenses like waste disposal,' says Greg. 'Just last week we hosted a group of fellow tourism operators to share our story – one of the goals set for us by The Green Room programme. We believe that leading by example is a great way to encourage others to join us in the fight for things we care about.'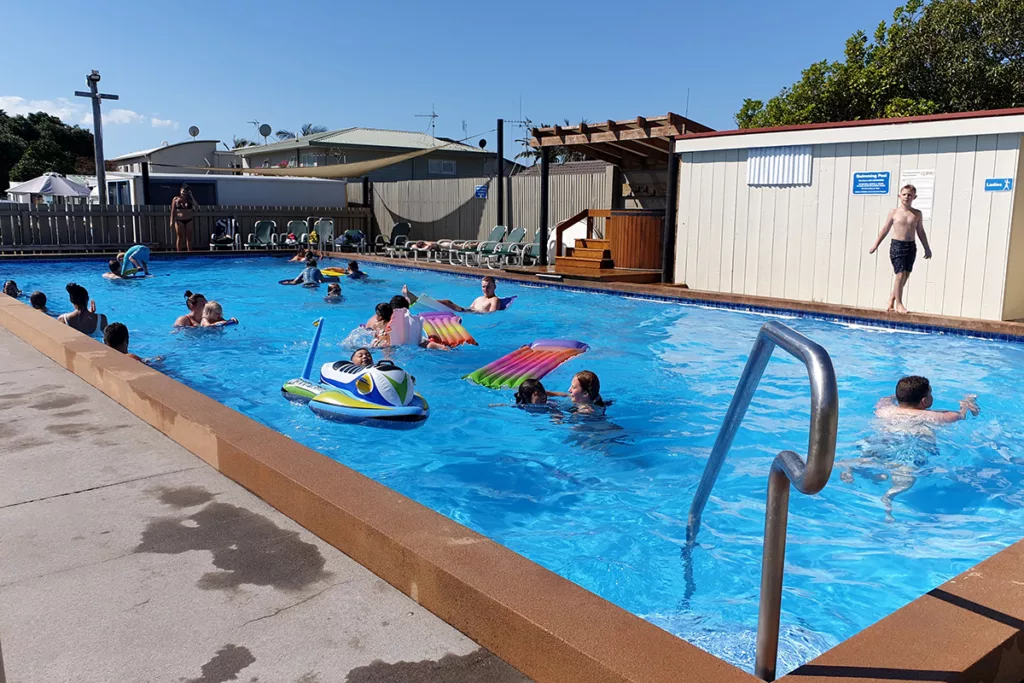 Find out more about Mount Mauganui's Cosy Corner Holiday Park, and book here.
---
Great Rides and Holiday Parks
Did you know that HPNZ are a national partner of the 23 Ngā Haerenga Great Rides of New Zealand? There are wonderful holiday parks located on or near all of them too. Find out more in this inspirational article.
What's new and exciting?
Read our 'what's new' blog for seasonal holiday inspiration around Aotearoa New Zealand.